Marinade DAO,
The proverb "If you build it, they will come" is a fallacy.
Liquid staking offers a 10X product over traditional staking yet the TVL of the leading liquid staking protocols represents only 2.5% of total staked Solana.
Given the importance that liquid staking can play in improving Solana decentralization, this begs the question, "How do we increase awareness and adoption for liquid staking?"
Using a simplified funnel analysis (discovery, conversion, retention) I offer 18 recommendations for the protocol to help grow total staked SOL by liquid staking protocols from 2.5% to 5%.
Discovery: What channels are users coming from and what channels are underperforming?
Solana Labs:
Audio/Video Aggregators:
Wallet Integrations
Converting Users: How do we get users to stake their Solana on Marinade?
Once a user lands on https://marinade.finance/ there are two key drop off points:
Landing Page → Staking App
Staking App → Staked
Retaining Users: How do we get users to keep their Solana staked in Marinade?
Given Marinade's consistent command of overall liquid staking TVL I don't think retention is a key issue right now. However; to continue this dominance the protocol should continue to partner with burgenoining DeFi / NFT protocols to make sure the derivative token, mSOL, is interoperable across the Solana ecosystem.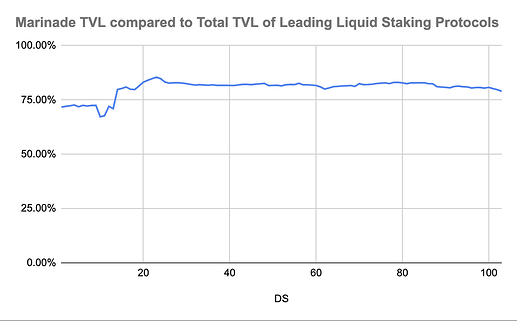 In summary, there are a variety of levers the protocol can use to grow the adoption of liquid staking and further aid in Solana's decentralization. Rather than allocating fees to MNDE holders as is suggested in the roadmap, I urge the team to use the treasury to test these levers as a way to grow the overall liquid staking TVL.
Thank you for your consideration,
Zain
References